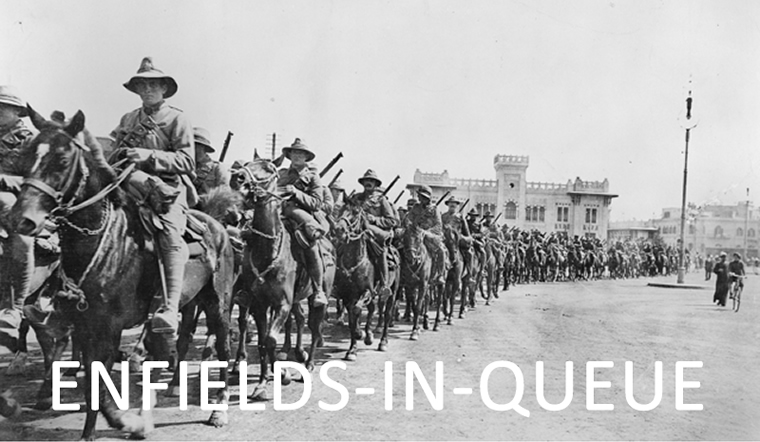 Enfields-in-Queue
Photo notes: Troopers from the New Zealand Mounted Rifles ride through the city of Cairo, Egypt in December 1914. Australian War Memorial photo H16662.
ENFIELDS IN QUEUE
Every museum has a back room. This is ours. It is a place to stick rifles and bayonets with a virtual hangtag and some scribbled notes to myself. All items in Queue are research works-in-progress. You are welcome to look around.
I buy unit-marked rifles and bayonets for the same reasons I buy oilers – I am interested in military history. Who made that mark? Where were they? What were they doing before? What happened afterward?
All of these Old Soldiers have stories to tell, starting with the "munitionettes," the ladies' maids and shopgirls who learned to operate machinery and build rifles and grenades and fill shells, to the volunteers and conscripts who found themselves carrying those rifles to places they never heard of, to fight in battles now mostly forgotten.
It is time to start telling those stories. As these stories are written, you'll find them on the RIFLES page – after which it's time for me to say goodbye and let these Old Soldiers, one by one, move on to their next home, the For Sale pages. Fair warning!! Research is slow work and I am in no particular hurry.
Sign up for our mailing list. We will let you know when we have new and original content and when items have migrated to the For Sale pages.
In the meantime, visit some of these Old Soldiers. There are a lot of interesting stories here, just waiting for you to find them.
Australia
Austria
Canada
China
Great Britain
Greece
India
Iraq
Ireland
Isle of Man
Malaya
Malta
Nazi Germany
Newfoundland
New Zealand
Palestine
Portugal
Northern Rhodesia
South Africa
Thailand
United States