Lee-Enfield Oilers of Afghanistan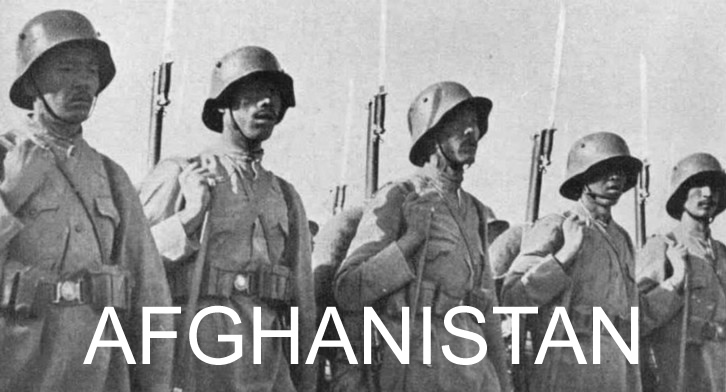 Photo notes: A group of Afghan soldiers, circa 1949-1950, holding Lee-Enfield rifles mounted with P1907 bayonets. The soldiers are wearing the M1918 Stahlhelm (German for "steel helmet"). Photographer and original photo source unknown. [1]
Afghanistan
It is hard to find much material published on Afghanistan for the period right after the war of independence (3rd Anglo/Afghan War:1919) through 1973, the year the revolution overthrew the government. One of the few sources we found reports that in the 1920's, a large number of P-14/P14 rifles were purchased from Great Britain, and replaced in the 1940's with both the SMLE (Short, Magazine, Lee-Enfield) and the Lee-Enfield Rifle No.4.
"The WWII-veteran SMLE became the standard Royal Afghan Army rifle in the mid-1940s, and retained this position into the 1950s. Thereafter it was still in widespread use, and was still seen with second-line and local militia units into the 1970s." [1]
We have found some Mk IV oilers with interesting marks; the table below walks through our analysis.
We do not know if these oilers are new manufacture or OEM (Original Equipment Manufacturer) oilers that have been reworked. There are no marks on the base; all marks and stamps are on the caps. OEM Lee-Enfield oilers have a slightly domed cap; these caps are all flat - as if the top had been machined off.
LEE-ENFIELD OILERS OF AFGHANISTAN
NATIONAL EMBLEM OF AFGHANISTAN

The National Emblem of Afghanistan has been part of almost every national flag of Afghanistan since 1928. Almost every flag has had a mosque in it (1901), and sheaves of wheat (1928).

The symbols includes a window frame facing Mecca and a pulpit, while Afghan flags flutter near the minarets. Above the mosque is the Shadaha, the declaration of faith that is one of the Five Pillars of Islam ("There is no god but God, and Mohammed is his prophet.")

AFGHAN LEE-ENFIELD OILER - TYPE ONE

A mosque with flags above Arabic script sits on the cap of a Mk IV brass oiler. There is Arabic script beneath the mosque.

No other marks. Unlike a typical domed Lee-Enfield oilers, the cap is flat.

AFGHAN LEE-ENFIELD OILER - TYPE TWO

A mosque has been defaced, apparently with a punch. The Arabic script beneath the mosque appears unchanged.

No other marks. Unlike a typical domed Lee-Enfield oilers, the cap is flat.

AFGHAN LEE-ENFIELD OILER - TYPE THREE

No symbols whatever, other than Arabic script, the Shahada ("There is no god but God, and Mohammed is his prophet.")

No other marks. Unlike a typical domed Lee-Enfield oilers, the cap is flat.

AFGHAN LEE-ENFIELD OILER - TYPE FOUR

No symbols whatever, other than Arabic script, possibly Dari, a dialect commomnly spoken in Afghanistan. Presumably the Shahada ("There is no god but God, and Mohammed is his prophet.")

No other marks. Unlike a typical domed Lee-Enfield oilers, the cap is flat.

Page Notes & Sources

[1] Photo and information found at the WWIIAFTERWWII https://wwiiafterwwii.wordpress.com/2015/06/01/wwii-gear-in-afghan-use-part-i-firearms/ blog. Like most blogs, the writer does not cite his sources. Unfortunately.

Flags of Afghanistan https://en.wikipedia.org/wiki/Flag_of_Afghanistan#:~:text=The%20national%20flag%20of%20Afghanistan,most%20of%20the%2020th%20century

Emblem of Afghanistan https://en.wikipedia.org/wiki/Emblem_of_Afghanistan