OILER MAKERS MARKS - INDIA
Subheading
THIS IS THE NEW INDIA PAGE - CANADA IS THE TEMPLATE
Body Text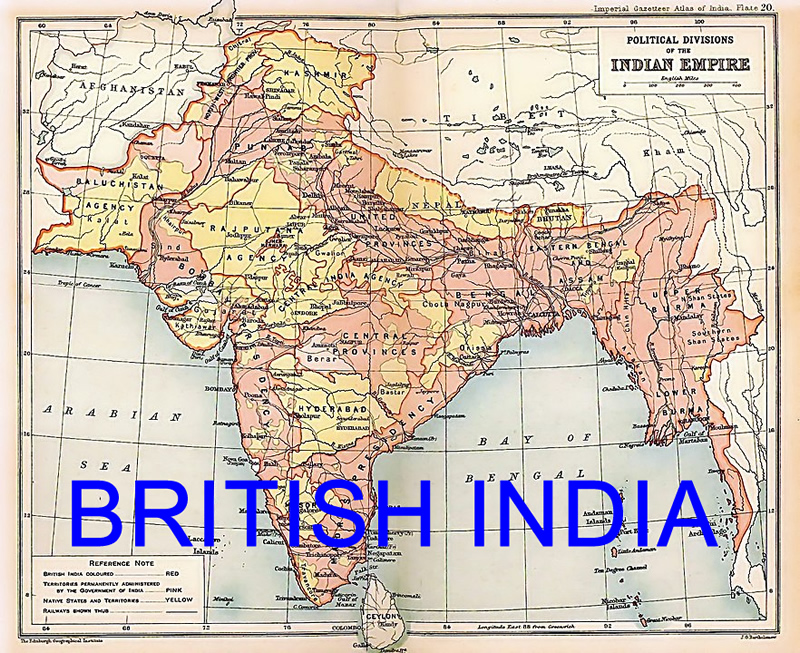 Photo notes: 1909 Map of then British India, showing British India in two shades of pink and the princely states in yellow. Map of the British Indian Empire from Imperial Gazetteer of India by Edinburgh Geographical Institute; J. G. Bartholomew and Sons. - Oxford University Press, 1909. [1]
BRITISH INDIA 1858-1947

British India (also called the British Raj) was the rule of the Indian subcontinent by the British Crown 1858-1947. Some areas were ruled directly by the United Kingdom through the Viceroy and Governor-General of India, while the Princely States were semi-autonomous with Indian rulers, but subject to British Crown through the Viceroy of India.

Geographically, the Indian Empire extended over almost all of modern-day India, Pakistan, Burma (Myanmar) and Bangladesh.

British rule ended 15 August 1947 when the country was partitioned into the Dominion of India (later the Republic of India) and the Dominion of Pakistan (later the Islamic Republic of Pakistan).

RIFLE FACTORY ISHAPORE

Mark commonly found on Indian produced arms. Mark found on Mk III and Mk IV oilers.

DUM DUM ARSENAL

DF is the ammunition headstamp of the Dum Dum Arsenal (now Ordnance Factory Dum Dum). [2] This mark is sometimes found on Mk IV oilers.

METAL & STEEL FACTORY

Founded 1872 as Gun & Shell Factory at Cossipore, the facility was moved to Ishapore in 1905 to supply the newly-built Rifle Factory Ishapore and officially designated "Metal & Steel Factory, Ishapore (MSF)" in 1920. [3]

RAWALPINDI ARSENAL

Rawalpindi was a permanent garrison (1851) of the British Army and by 1886 the headquarters of the Indian Northern Command. There was an Arsenal at Rawalpindi, often abbreviated to RPA, which was located within the Fort. [4]

Modern-day Rawalpindi is not far from Pakistan's capital city of Islamabad and is the present-day headquarters of Pakistani Army and Air Force.
INDIA - UNKNOWN MARKS

The SA mark, often appearing above a number, is often encountered on post-independence Indian marked arms and gear. The SA is presumed to be "Small Arms".

During World War II (1939-1945) the Indian Government built a small arms factory, code-name Transplantation Project-1, in Kanpur as a strategic shadow/backup of Rifle Factory Ishapore. In 1949 the factory was renamed Small Arms Factory (SAF) Kanpur. The SA mark may - or may not - be unrelated to SAF Kanpur. [5]
INDIA - UNKNOWN SOLDIERS

ALCO (?)

Unknown manufacturer. Mk IV oiler with SA/150 stamped on cap and base.

Unknown manufacturer. Mk IV oiler with SA/278 and Broad Arrow.

Unknown manufacturer. Mk IV oiler with Indian Government and Broad Arrow stamped on cap.

Unknown manufacturer. Mk IV oiler with Broad Arrow and SA/illegible number.

Unknown manufacturer. Mk IV oiler with SA/illegible number.

Unknown manufacturer. Mk IV oiler. We have one example with IG/Indian Government Broad Arrow marks on the cap. All other samples unmarked.
Page Notes & Sources
[1] Public domain: https://commons.wikimedia.org/w/index.php?curid=7381045 [Retrieved 2020-06-17]
[2] Labbett & Mead, .303 Inch, A History of the .303 Cartridge in British Service, pg. 212
[3] Metal & Steel Factory website: https://ofb.gov.in/units/MSF [Retrieved 2020-06-17]
[4] Families in British India Society https://wiki.fibis.org/w/Rawalpindi [Retrieved 2020-06-17] This website has many links to historical photographs and information about units that were stationed there. There is also an extensive list of military abbreviations not found in most sources. Worth a visit.
[5] SAF-KANPUR website: https://ofb.gov.in/unit/pages/SAF/history2 [Retrieved 2020-06-17]
Suggested Reading
India's Enfields The Lee-Enfield Rifle in India 1902-2000 (2000) Edwards, Robert W.
Consortium Press, Keedysville, Maryland, USA

This book is organized by era, with each section having a capsule history of India. Even if you're not interested in the rifles, the concise history is worth the price of the book.

The Ruling Caste Imperial Lives in the Victorian Raj (2005)
Gilmore, David Farrar, Straus and Giroux, New York, USA

381 pages, with index, bibliography and footnotes

This book is the story of the India Civil Service, 1858 - 1947, the story of the 1000 or so clerks and administrators that made governing almost 300 million subjects of the British Raj possible.