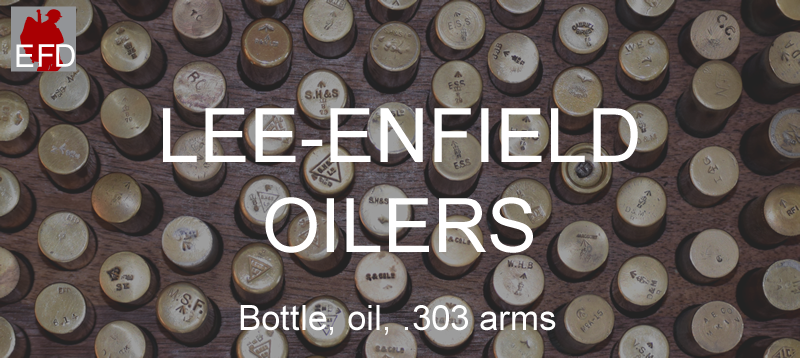 Oilers
FAST MARK FINDER
Want to find it fast? START HERE. A compendium of more than 135 known marks observed on Lee-Enfield oilers.
FIELD GUIDE TO LEE-ENFIELD OILERS
A quick step-by-step guide to help you distinguish an 1880's Mk I from a 1970's Mk V.
It's easier than you think. We can make you an expert in just a few minutes. No experience necessary.
MAKER'S MARKS
A comprehensive list of oilers markings organized by country of manufacture. If you know who you're looking for or want to see the variations of marks from a single maker, especially some of the Great War (1914-1919) contractors, the pages below makes for some interesting reading.
DON'T FORGET TO UPDATE ALL THE PAGE LINKS!
YADDA, YADDA, YADDA
New Level II Child Page
Section Notes & Sources
[1] Photo notes: A box displaying several dozen brass oil bottles with a variety of marks, symbols and codes visible on the end of each oil bottle. Author's collection.
[2] Kolberg, Are Skarstein. "Warfare in Viking Age Scandinavia." The Journal of Military History, January 2019, pgs. 13-14.