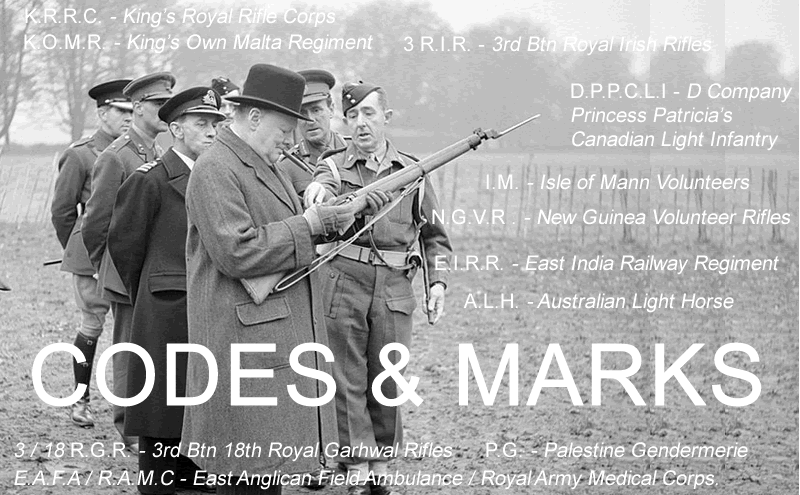 Codes & Marks
British Prime Minister Winston Churchill examines the new Lee-Enfield No.4 Mk 1 rifle during a visit to the 53rd Division in Kent, England, 20 November 1942. Imperial War Museum photograph H-25436. Photographer (Major) W.G. Horton. [1]
CODES & MARKS
High-quality Roman-made swords, dating from AD 200, have been found with factory stamps.  Viking spears and shields have been found marked with runes like NITHIJO TAWIDE, ( "Nithijo made this.") [2] From the earliest days of conflict, military equipment has often been marked with the name of the manufacturer.  British Empire military equipment, such as the Lee-Enfield rifle, are often found with letters, numbers, codes, runes and symbols stamped, etched, scratched, embossed, pressed or branded into the wood or metal.  All those marks, taken together, tell a story of who made the rifle, who repaired it, who owned it, who used it and where it went.  Generally, the codes and marks fall into several broad categories:
GOVERNMENT MARKS
From earliest times, people have used some type of mark to say, "This is mine!"  Marking military equipment and supplies with an ownership mark is a symbol of power.  Providing military equipment and supplies to allies, friends, supporters and dependents is a way of extending and projecting power.  Captured enemy equipment, marked as yours, sends a powerful message.  Here we examine government marks and symbols found on Lee-Enfield rifles and bayonets.
MAKER'S MARKS
Here we'll take a quick look at some of the most commonly encountered marks of known manufacturers. As there are many very good books and websites about the myriad variations of Lee-Enfield rifles, along with plenty of books that explore in detail the contractors and subcontractors, we will not explore the topic in depth. If you are new to Lee-Enfield's, pop over to our Notes & Sources for some ideas on where to get started.
INSPECTION MARKS
We take the concept of interchangeable parts for granted. One hundred years before computer-controlled machinery was dreamed of (and twenty years before anyone used electrical power for anything at all) , the British Empire had manufacturing standards and an inspection system, including parts updates and recalls. Inspection marks, including proof marks, import marks and export marks all have a story to tell..
Armourer's Marks
The Short, Magazine, Lee-Enfield (SMLE) arrived fresh from the factory with a blank brass disk embedded in the buttstock, waiting to be stamped by the unit armorer with the Regiment's unique code that said, "This is ours!" Deciphering those cryptic codes will unlock some of that rifle's history.
New Level II Child Page
Page Notes & Sources
[1] IWM H-25436: None of the other men in the photograph are identified. The description "new Lee-Enfield No.4 Mk I" is part of the IWM description. All of the text visible in the photo has been added for this website; the photo has been slightly modified to accommodate the text.
[2] Kolberg, Are Skarstein. "Warfare in Viking Age Scandinavia." The Journal of Military History, January 2019, pgs. 13-14.