OILER MAKERS MARKS - AUSTRALIA
Subheading
THIS IS THE NEW AUSTRALIA PAGE - CANADA/INDIA IS THE TEMPLATE
Body Text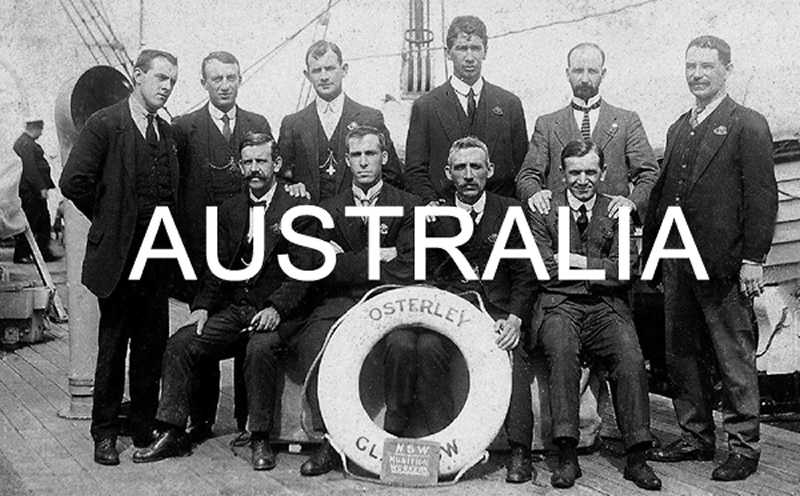 Photo notes: Unidentified Australian munitions workers bound for England aboard the SS Osterley, October 1916. The small flag at their feet reads, " N.S.W. Munition Workers". Each man is wearing an Australian Munitions Worker badge on their right lapel. Photographer unknown. Photo courtesy of Australian Munitions Worker website and Roslyn Spiteri. [1]
AUTRALIA

Small Arms Factory - Lithgow, New South Wales was the first government arms plant in Australia. The plant opened in 1912; the first rifles were delivered almost a year later, in May 1913.

SAF-Lithgow remained Australia's only rifle, bayonet and parts manufacturer until 1942, when additional "feeder factories" were opened to augment WWII (1939-1945) production.

The last Lee-Enfield left the Lithgow plant in 1986.

LITHGOW SMALL ARMS FACTORY

Mark commonly found on Australian produced arms. Also seen on Mk IV and Mk V oilers. Some variations in size of the star have been noted on oilers. Mark is typically on both cap and base.

LITHGOW SMALL ARMS FACTORY

This mark is found only on Mk V oilers. Unsually seen on both cap and base. The circle appears to be a sprue - a leftover from the manufacturing process, rather than a deliberate design.

LITHGOW SMALL ARMS FACTORY

Sometime around 1926 the MA makes it's appearance on rifles and bayonets. It also appears on Mk IV oilers, both cap and base. Some size variations noted.

ORANGE RIFLE FACTORY No.3 (ORANGE ARSENAL)

Factory built 1941; production commenced 1942 and shortly thereafter rifle production was transferred from Lithgow SAF; Orange became the main Australian rifle factory for the remainder of WWII. Production ceased early 1946.

Seen on Mk IV oilers; marked on cap and base.
AUSTRALIA - UNKNOWN MARKS

The seven-point Australian star with an "A" within is a known mark associated with Lithgow production. A "D" with a Broad arrow within is a known Australia government property mark. This mark, a tiny (4mm) "D" within the A-Star is not listed in any official sources as an approved manufacturing or government mark.

This mark, found on Mk V oilers, is small. From a manufacturing standpoint, getting a Broad Arrow to show inside a "D" was probably beyond the technical capabilities available at that time. The "D" appears to have been heat-stamped within the star; the melted plastic forms a circle.

Technically, not an official mark. Practically, it works. And the star is right-side up. Manufacturer unknown.
| | |
| --- | --- |
| | Unknown manufacturer. Mk V oiler. Seven-pointed Australian star is upside down. Same mark on cap and base. |
| | Unknown manufacturer. Mk V oiler. Seven-pointed Australian star is upside down. Same mark on cap and base. |
| | Unknown manufacturer. Mk V oiler with marks on cap and base; presumed to be Australian. |
Page Notes & Sources
[1] Australian Munitions Workers website https://australianmunitionsworkersww1.weebly.com/ The site includes an extensive collection of photos from the Australian War Museum, as well as the names of almost 6,000 men who volunteered. [Retrieved 2020-06-20]
We are much indebted to Beth at AMW her assistance in researching this topic, as well as providing the photo for our use.
The story behind the Munitions Workers scheme is a fascinating and little-known story. The best overall description we've found is on a Surrey (UK) Heritage (Surrey County Council) project website: "Surrey in the Great War" https://www.surreyinthegreatwar.org.uk/story/australian-munitions-workers/ Well written with pictures, references and footnotes. Worth reading.
Page Notes & Sources
Defending the Dominion: Canadian Military Rifles 1855-1955 (2003) Edgecombe, David W.
Service Publications, Ontario, Canada